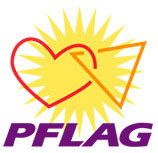 Pat Currivan will be the speaker at the Monday, November 13, 2017, support meeting of PFLAG Sedona/Verde Valley. The meeting starts at 6:30 p.m. at the Church of the Red Rocks, located at 54 Bowstring Drive in Sedona.
Pat Currivan currently serves on the Board of Directors of the Coalition Against Human Trafficking – Northern AZ, as their Art Director. The Coalition Against Human Trafficking – Northern AZ is dedicated to combating human trafficking in our communities through increasing awareness about this growing problem. Its mission is to educate, provide a networking platform and collectively partner with diverse groups including law enforcement, schools, community organizations, businesses, faith-based organizations, government agencies, first responders and service providers to help eradicate human trafficking.
Pat Currivan was born and raised in Cleveland, Ohio and her formal education began at Bowling Green State University, as a fine art major. Before long, she switched gears in pursuit of a career, completing her education at Cooper School of Art, majoring in graphic design. Pat worked at the World Headquarters of Eaton Corporation – a Fortune 500 company – where she would pioneer a design post in their Communications Department and ultimately rise to the position of art director.
Pat and her husband, John, a Sedona City Councilman, were married at Red Rock Crossing in 1996. Before the red dust was off their shoes, they began to evolve a plan to pack up their careers in Cleveland and move permanently to Sedona. It didn't happen overnight, but they now live full time in their favorite place on Earth, and both have embraced community involvement.
Just a reminder – we have changed our monthly meeting format. For the first hour, we will have a program and speaker. For the second hour, we will split into support groups. There will be a transgender support group, as well as other groups created based on the needs/desires of those attending.
Finally, our designated charity this quarter (October-December), is the Sedona Area Homeless Alliance (SAHA). If you would like to donate to SAHA, you may bring donated items to our November 13 and December 11, 2017 support meetings. Donated items may include cash, new or like new sleeping bags, tents and blankets. Also needed are new socks, underwear, long underwear, all winter-type clothing, such as pants, shirts, coats, sweaters, gloves and hats. Additionally, you may donate bar soap, deodorant, shampoo, toothpaste, toothbrushes and grocery gift cards.
Please attend our November 13th support meeting at 6:30 p.m. at the Church of the Red Rocks and hear Pat Currivan's talk and learn about The Coalition Against Human Trafficking – Northern AZ.   All are welcome to attend.