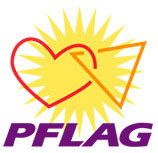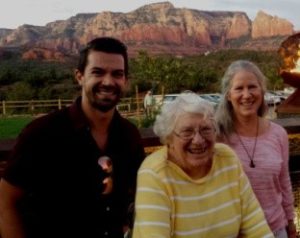 Monday, December 11, 2017, will be a very special meeting for PFLAG Sedona/Verde Valley. At that meeting, we will be introducing the annual Jackie "Gringa" Richardson Scholarship program. As many of you probably recall, Jackie, (aka "Gringa"), pictured here with daughter, Susan Hughes, one of our founders, and grandson, Andrew Hughes, was our greeter for almost 4 years. From the moment she arrived in Sedona, the PFLAG meetings became an important part of her life. And when her life on earth was over, one of the charities she wanted supported was PFLAG Sedona/Verde Valley. The donations in her memory totaled over $2,600, so the Board elected to establish a scholarship fund in her name. At our December support meeting, Susan will give an overview of the program and will also have applications available for qualified students in the Verde Valley.
Susan will also be sharing highlights from the PFLAG National Convention which was held in Portland in October 2017. Meeting Jaime Grant, the new executive director of PFLAG National and hearing her story and vision for PFLAG was an outstanding way to kick off a full weekend of information and sharing.
And just a reminder – our designated charity this quarter (October-December), is the Sedona Area Homeless Alliance (SAHA). If you would like to donate to SAHA, you may bring donated items to our support meeting. Donated items may include cash, new or like new sleeping bags, tents and blankets. Also needed are new socks, underwear, long underwear, all winter-type clothing, such as pants, shirts, coats, sweaters, gloves and hats. Additionally, bar soap, deodorant, shampoo, toothpaste, toothbrushes and grocery gift cards would be greatly appreciated.
Just another reminder – we have changed our monthly meeting format. For the first hour, we will have a program and speaker. For the second hour, we will have a support group sharing and discussion session.
Please attend our December 11th support meeting at 6:30 p.m. at the Church of the Red Rocks to hear Susan share about this great opportunity for Verde Valley students.   All are welcome to attend.