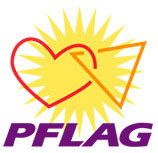 On Monday, October 9, 2017 at 6:30 p.m., PFLAG Sedona/Verde Valley is honored to have Chris Duarte as its speaker. Chris Duarte believes in building bridges and empowering people for positive change. For 15 years, Chris has been creating programs, events, written policy, and advocated for the lives and rights of LGBTQ people.
As a transgender man who transitioned before the era of "inclusion," he experienced the challenges of discrimination and "falling between the cracks." I…nstead of getting angry, Chris believed that by creating safe spaces, connecting people to resources, and educating allies, he could build better communities that would be accepting of all people; regardless of their differences.
Today, Chris owns his own consulting firm that provides professional and community training, program design, and community development services.
More than ever before, our communities need to come together, unite, and support one another through partnerships and collaboration. Chris's mission is to be part of the process that teaches people how to create solutions and work towards cohesion. Since July 2017, Chris has taken on the role as Chair of the Northern Arizona Human Rights Council to ensure equal treatment and access to healthcare for all people. Today, Chris continues to work with a great group of people to build the GYCC LGBTQ Coalition of Yavapai County which provides an umbrella of resources, support and connection to the LGBTQ Community. Happily married and a proud parent of one, Chris hopes that his story will help others feel empowered and know they are loved.
Don't forget that October will also usher in a change to our monthly meeting format. For the first hour, we will have a program. For the second hour, we will split into support groups. There will be a transgender support group, as well as other groups created based on the needs/desires of those attending.
Finally, this month begins our collections for the Sedona Area Homeless Alliance (SAHA). If you would like to donate to SAHA, you may bring donated items to our PFLAG meetings on October 9, November 13 and December 11, 2017. Donated items may include cash, new or like new sleeping bags, tents and blankets. Also needed are new socks, underwear, long underwear, all winter-type clothing, such as pants, shirts, coats, sweaters, gloves and hats. Additionally, you may donate bar soap, deodorant, shampoo, toothpaste, toothbrushes and grocery gift cards.
Our meetings begin at 6:30 pm at The Church of the Red Rocks, 54 Bowstring Drive, Sedona. All are welcome to attend.